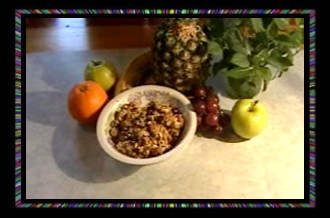 Granola
3 Large Bananas
½ C Raisins Or Chopped Dates
½ C Almonds Or Cashews
1 C Sesame Seeds
½ C Ground Sesame
½ C Sunflower Seeds
1 T Fenugreek
Mix all ingredients together
and then add 8 Cups of Quick Oats.
Spread over baking trays
that are covered with olive oil.
Bake at 200 degrees for four hours.
Stir now and then breaking the lumps
if you don't want them.
When done, more dried fruit can be added
such as dried pineapple, cranberry,
figs, papaya, apples, and dates.