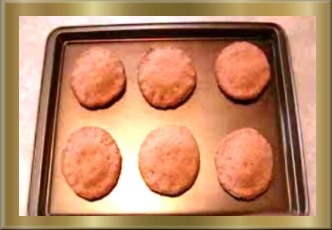 Fig Rounds
12 oz Hot Water
¼ t Salt
3 T Olive Oil
10 Dates
2 Cups Brazil Nuts
2 Cups Barley Flour
2 Cups Whole Wheat Flour
1 t Yeast
Grind the Fresh Raw Brazil nuts fine.
Chop the dates small.
Put the dates, nuts, salt and oil into the water.
Add the flour and the yeast last.
Kneed and let it rise for an hour.
Use half for the top and half for the bottom.
Roll out half the dough
and use a cookie cutter
or a Gem jar ring to cut circles.
Fill with the filling below.
Put the top piece on
and press together till they stick.
Let them rise.
Bake for 20 minutes at 350 degrees.
Use the next day when yeast is used.
2 cups Figs
½ Cup dates
3 T Creamed Coconut
Grind figs and dates together to fill the above dough.