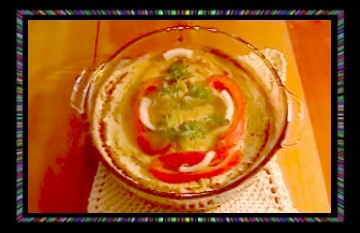 Peanut Loaf
1 C Peanuts
1 C Corn flour
½ C Sunflower Seeds
1/2 C Sesame Seeds
½ C Chopped Onions
1 Clove Garlic
¼ t Garlic Powder
1/4 t Onion Powder
¼ t Salt
2 C water
Put the ingredients in the Blender until
smooth. Pour into glass baking dish.
Use a little more water to rinse the blender
and pour over the top. Bake one hour at 350
degrees.
Tamale Pie
1 C Cornmeal
¼ C Sesame Seeds
¼ t Salt
4 C Water
Cook until thick and put into a glass baking dish.
Blend two large tomatoes with 1T w.w. flour and
salt to taste.
Pour over cornmeal.
Put one cup of
cooked cabbage in the center leaving a rim of red
to show or use your favorite vegetable.
Spread
1 C Almonds or Cashews raw
2 T sesame Seeds
2 T chopped Onion
1 Clove Garlic
½ Stick Celery
¼ t Garlic Powder
¼ t Onion Powder
½ C Pineapple Juice
¼ C Pimento or Red Bell Pepper
Blend this ingredients in blender
until smooth and stir in the juice
from one lemon. Cover the cabbage
with this spread and decorate with
mild olives and pieces of parsley
and onion rings.