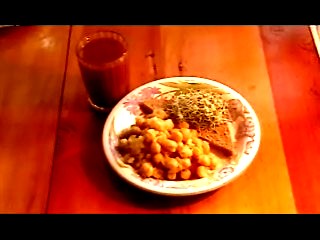 Garbanzos
1 C Dried Garbanzos
4 C Water
2 Cloves Garlic
1 Onion
Cook for 5 hours on low heat
and then add ½ t Salt
Garbanzo Dip
1 C Dried Garbanzos
4 C Water
1 C Sesame Seeds
½ Tomato
½ Stick Celery
½ C Onions
1 Garlic Clove
½ C Red Bell Pepper
Juice Of 1 Lemon
½ t Garlic Powder
¼ t Onion Powder
½ t Salt
Cook the Garbanzos in the water for three hours and add one garlic and one onion and cook until done.
Save ½ of the Garbanzos whole and use the other half to blend with the remaining ingredients.
Serve right away with the whole garbanzos.
Some people would rather have it cooked, so suit your taste.
The dip can have 1 can of tomato paste mixed into it.
Cook 1 lb of whole grain spaghetti and mix together.
Put into a glass baking dish and smooth the top. Pour ½ cup
water over top and bake for 45 minutes at 350 degrees.