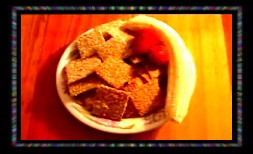 Sesame Crackers
1 C Oat Flour
1 C Whole Wheat Flour
1 C Sesame seeds
½ C ground Sesame Seeds
1/2 T Salt
1 C Water
Mix everything together. Divide into two balls.
Knead and roll out thin. Bake 10-15 minutes at 350 degrees. Watch close!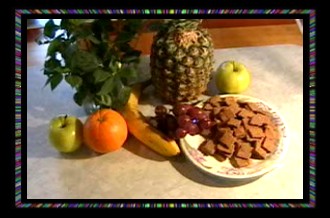 Anise Crunch
2 C Whole Wheat Flour
½ C Ground Sesame Seeds
2 T Anise
3 T Virgin Olive Oil
4 T Blackstrap
1 Large Banana
Grind the sesame seeds and anise
and add to the mashed banana,
oil and molasses, then mix together.
Add the flour and knead into two balls.
Roll thin and cut into ½ inch squares.
Bake at 350 degrees for 10-15 minutes.
Stand by and don't leave it.
Watch closely.