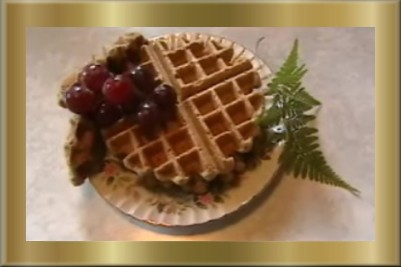 Seed Waffles
2 C Rolled Oats
1 C Sunflower Seeds
1 C Sesame Seeds
½ C Pumpkin Seeds
¼ C flax Seed (or less)
½ t Salt
3 ½ C Water
Grind oats and seeds fine.
Stir everything together.
Bake for 10 –15 minutes in the Waffle iron.
Serve for breakfast or dinner
with applesauce or other fruit
Or with tomato sauce or cashew gravy.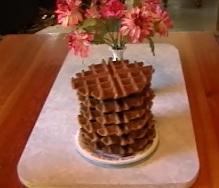 Yummy Waffles
1 C Whole Wheat Flour
1 C Barley Flour
1 C Rolled Oats
1 C Sunflower Seeds
½ C Sesame Seeds
3 Dates Mashed
½ t Salt
3 ¼ C Water
Blend the oats into flour.
Grind the sunflower and sesame seeds fine.
Mix all ingredients together
and let it stand for ten or so minutes.
Bake for 10-12 minutes in the waffle iron.
Enjoy fresh with all kinds of fruits and vegetables.
Or you can freeze them for later.