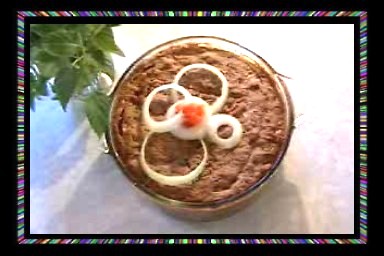 Soy Roast
4 C Water
1 C Soy Beans
1 C Sunflower Seeds Ground
1 C Almonds Ground
2 T Peanut Butter (just Peanuts)
1 Garlic
1 Onion
½ t salt
¼ t Onion Powder
½ t Garlic Powder
Pinch Oregano
½ C Walnuts Chopped
Cook the soybeans in water for one hour.
Dump the water and add four cups of fresh water
and cook for 2-3 more hours on low heat.
Blend all ingredients together except the walnuts
and onions chopped small.
Mix the onion and walnuts with the blend
and pour into glass baking dish and cover.
Bake for 1 hour or more at 350 degrees.