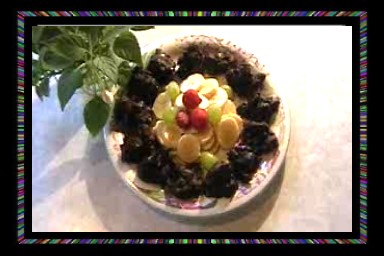 Carob Drops
3 C Carob Powder
½ C Dates Mashed
¼ C Cashews
1 C peanuts
1 C Almonds
2 T Creamed Coconut
2 C Water
Chop dates to make sure there are no pits. Soak the dates for 10 minutes. Blend the carob, dates, cashews, and coconut in the water.
Mix in the nuts and spoon onto baking tray that is
spread with olive oil, using 1 t per drop.
Bake at 300 for 10-15 minutes.
Oat Rocks
2 C Oats
2 C Wheat Germ
2 Bananas
1 C Raisins
1 C Dates
1 C Ground Almonds
1 C Sunflower Seeds
½ t Fenugreek
½ t Anise Seed Powder
½ t Orange Peel Powder
¼ t salt
Mix the dry ingredients together.
Blend the bananas and dates together and add to the others.
Use two teaspoons to make the rocks
and put on the tray covered with virgin olive oil.
Bake at 350 for 20-30 minutes.
This also can be spread on the tray
and cut into squares and then baked.