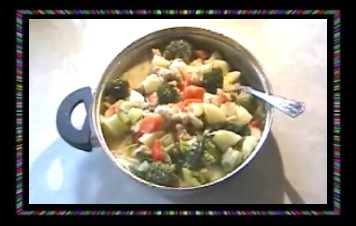 Knodel Vegetables
1 C Onions
¼ C Bell Peppers
¼ C Celery
2 C Broccoli
2 C Potatoes
1 C Carrots
1 C Spinach
Mix together
½ C Water
1 C Whole Grain Wheat Flour
5 Ground Brazil nuts
¼ C Ground Sunflower Seeds
½ t Salt
Cut into small pieces and
put into 4 C of boiling water in the frying pan.
Let them cook for 15 minutes.
Add all the cut vegetables and cover.
Stir now and then to keep from sticking.
Cook for 15-20 minutes on low heat until done.
Check and see if you may need to add a little water.
Add 2 or 3 T of Braggs, 2 T flour and a T of Olive Oil and stir.
Serve Hot.